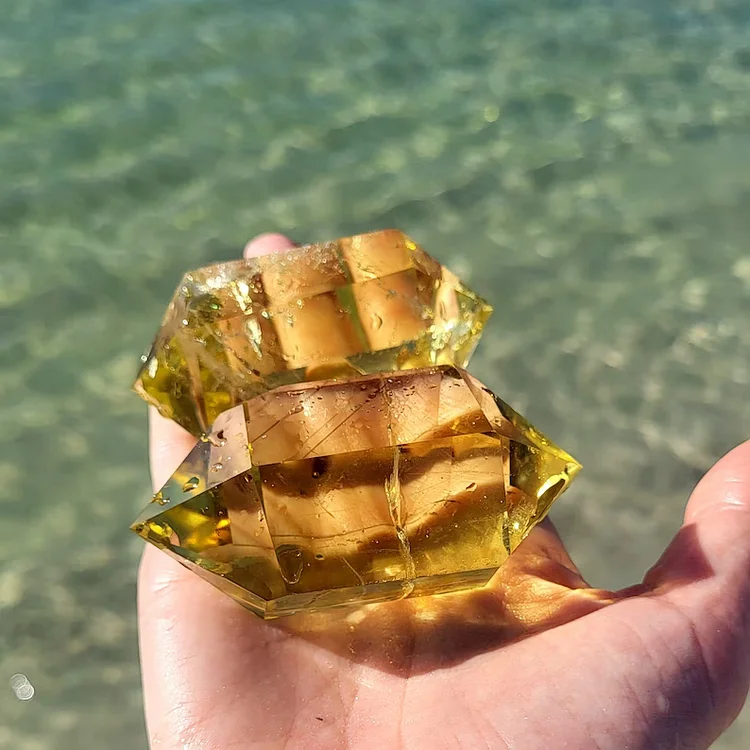 All crystals have unique shapes, length and width, some of them chubby and short, others are more skinny and long, that's why I've created the variations by weight. Please see the pictures with sizes for your references. The crystal on the main picture is 2 XL. Thank you



The crystal of Wealth and Abundance in all aspects of life.


Citrine energizes every level of life. It cleanses the chakras and opens the intuition. Citrine attracts wealth, prosperity and success. It imparts joy, wonder, delight and enthusiasm. Raises self-esteem and self-confidence. Stimulates the brain, strengthening the intellect. Citrine promotes motivation, activates creativity and encourages self-expression.
Enhances concentration and revitalizes the mind. It releases negative traits, depression, fears and phobias.


Citrine is a powerful cleanser and regenerator. It carries the power of the sun, it is a warming, energizing and highly creative stone.


Wearing a citrine pendant will help you verbalize you thoughts, wishes and feelings.


Citrine bestows feelings of joie de vivre. It helps you to free yourself from oppressive influences. Citrine encourages you to be more extroverted and encourages self expression.

Citrine helps to lighten dark thoughts and brings optimism, playfulness and happiness into your energy systems. It gives you a second wind to face difficult situations. Citrine activates self confidence and joy

This crystal is soothing to the eye, and offers inexplicable joy to the beholder. It's a symbol of joy and cheerfulness.