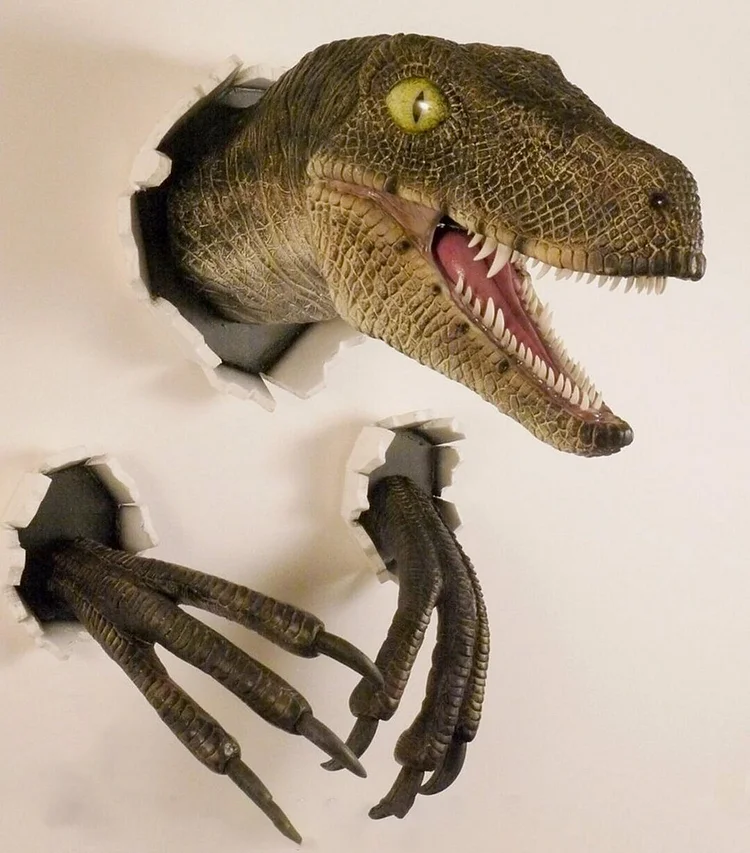 Today we bring you this dinosaur wall decoration, the perfect raptor wall prop for any dinosaur enthusiast, dinosaur collector, or older child who wants a realistic velociraptor wall-mounted prop to hang from their bedroom, studio, or office wall.
Finding authentic props is a tough gig, especially for those so inclined with an affinity for dinosaurs. Whether you're a Jurassic Park or Jurassic World fan, we at feel your pan. While realistic dinosaur wall decorations can be hard to come by, today's feature is just bursting through the wall to say "hi," and it's a much scarier face than you might expect!
This dinosaur wall decoration literally looks like it's bursting through the wall, making it an excellent gift for any dino-lover who wants a spook. Depicting one headpiece and two claws from a velociraptor, the wall-bursting dinosaur decoration is not only a super-convincing wall prop, but it's also hand-painted and detailed by the shop, as well as cast in sold high-density foam and resin.
Perhaps most beautiful of all is this raptor wall decoration's special inlaid eyes with hyper-realistic detailing, along with the resin teeth inside the dino's mouth.
 Restore all the details and sizes of the real dinosaur one by one, ensuring a sense of shock and oppression. Any movie room, collection room or even home decoration will definitely be sought after!
Easy to install, hang on screws or nails in metal holes on the back(screws or nails not included). Treasured artifact on home or garden wall.