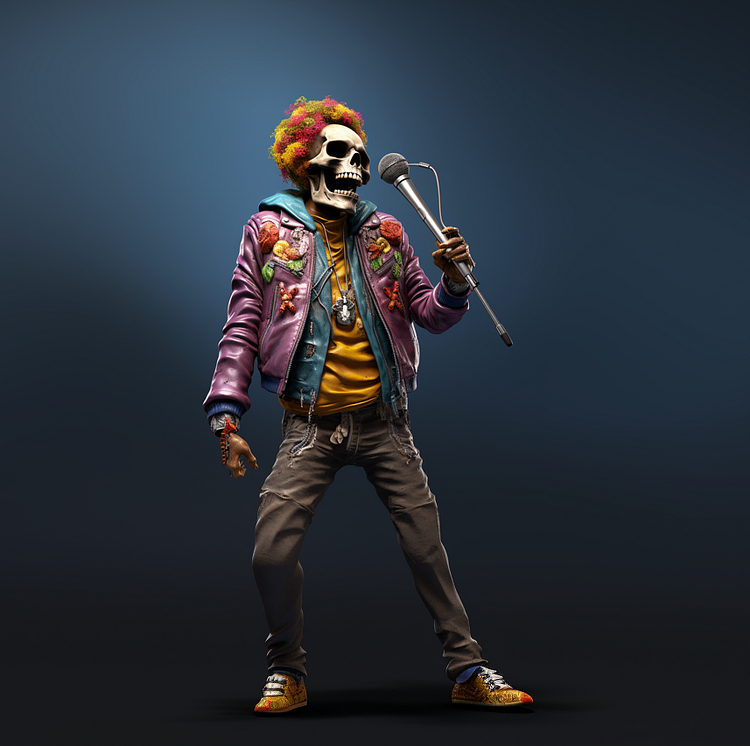 The best gift for rock fans!
This skull sculpture looks really cool and it's an impressive decoration. Skulls represent death and the transience of life, and this sculpture presents this theme in a fun and fashionable way.This collection of four statues is presented in 1/12th scale and is hand painted.  They show the members of the band mid-show with their instruments:  guitar, drums, bass and microphone. 
Its shape is very sleek and modern, with a design that is sure to catch people's attention and provoke reflection on the meaning of life. Whether you put it on your desk or on a shelf, this sculpture can be a striking addition to any space. If you love unique decorations and trendy designs, this cool skull sculpture is definitely worth collecting.
In addition to its design and charm, this sculpture is also very durable. Made of high-quality resin, it can maintain its shape and color even after long-term use, without fading or deformation. Its small size also makes it easy to carry and display, making it a great decoration for travel or as a gift for your friends and family.
In conclusion, this cool skull sculpture is not just a decoration, but also an artwork that represents the meaning and value of life. Its unique design and exquisite craftsmanship are sure to catch your eye and make it a striking addition to your home.
Hight: About 6inches / 15cm
Materials: Polyresin
HANDMADE
The prototype of the sculpture is hand-carved by our designers. From the birth of the idea of making a set of such sculpture models, to the completion of the prototype by hand-carving, we spent several months on continuous modification, and only then did we have the following set of prototypes
We will color the model after receiving your order.Made to order average production lead time 1-2 weeks before shipping. 
If you have any questions, please feel free to contact us: [email protected]