Everything is beautiful, You take a pen to record.
Paint Anywhere
Traveling with a palette, is your biggest obsession.
The most affectionate thing is that from now on, your journey will always be with a drawing board. Take it with you, record what you want to record, it's all great. Bring it with you,
there is no space limitation, you can paint wherever you want.
Style & Handmade 
This palette was created from the memory of art painters.
Finely Polished By Hand, Feel Comfortable and Delicate
.Uniquely styled in premium North American black walnut, completely handcrafted for
urban sketchers and traveling painters.
Natural Material
I am natural material-High-quality North American Black Walnut Solid Wood and I require special attention:I don't like temperature changes. I like to be dry, and don't like water on my surface.If I have deformationed, make me dry and leave me at room temperature. I will restore my shape.Hand-rubbed Wood Oil, Clean and Healthy.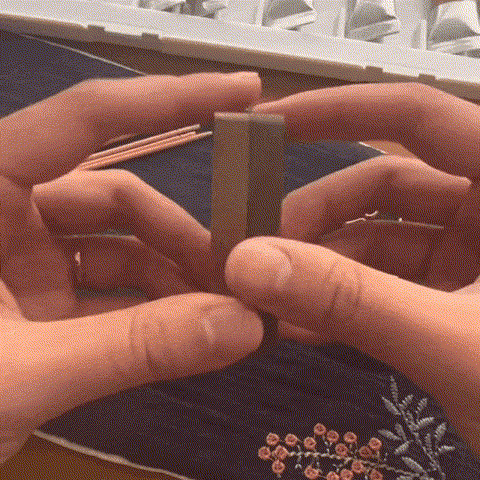 Great Gift Ideas
The palette is beautifully packaged.This is a watercolor paint box palette very suitable for travel and outdoor sketching and painting. It's compact enough to fit in a pocket.  It's a great gift for professional artists, travel sketches, students, beginning watercolor painters, etc.
Every day is a journey.
Painting is a description of a life, and description is a passive word. Maybe you are willing to like and addicted to it, you are willing to be controlled by it the moment you get it, practice communication over and over again, there is still a long way to go.
Everything is beautiful, You take a pen to record.
✨Warm Note
Since solid wood has different colors and textures, it is normal for the real object and the picture to have color and texture differences, please use it with confidence.
The palette that is attached to the sketchbook
8 color palette size of each half is 2.36inch x 1.18inch (opened 2.36inch x 2.36inch)
The palette has magnets and is connected by them
Waknut soild wood
Oil impregnation protects from water
Exquisite, compact and portable
PACKAGE INCLUDE:
1* Portable Walnut Watercolor Palette.