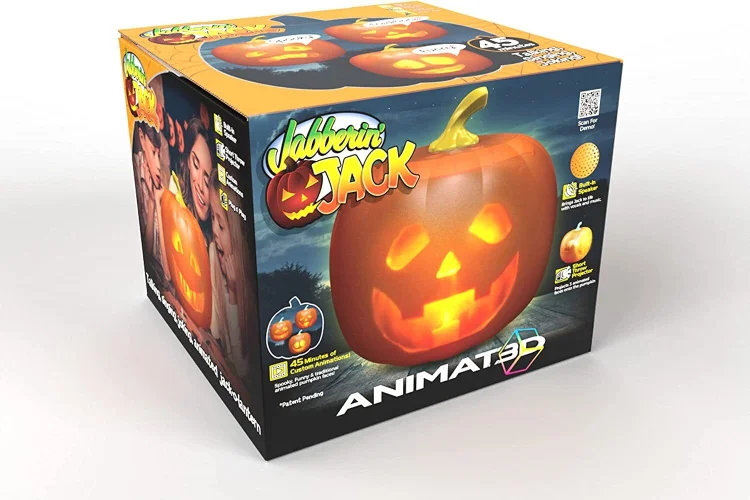 Brighten Your Halloween And Get A Jabberin' Jack Today!

Jabberin' Jack Sings, Talks, And Jokes!
For the best Halloween and the most fantastic house on the block, just plug Jabberin' Jack in and let the fun begin! This animated pumpkin is excellent indoors or on the porch! Trick-or-treaters will enjoy up to 70 minutes of singing, jokes, and funny phrases!
Built-in speaker and funny joker
The Talking Animated Pumpkin Toy built-in speaker can be heard from any distance. Make performances more realistic. There are 40 popular jokes built into the jack-o-lantern to make you laugh.
3 PERSONALITIES
Talking Pumpkin Toy Includes 3 unique characters (Spooky, Traditional, and Goofy). Each character has 3 original songs, a total of 9 pieces. 40 lines of jokes & phrases per character. Jabberin Jack also makes silent faces.
EASY TO USE
Talking and Singing Pumpkin Toy comes with a built-in Speaker and Simple 3 button controls: 2 volume control buttons, and 1 Skip button to skip animations, You can even pause animations with the Still mode. It is a small, short-throw projector and built-in speakers that provide entertainment – sound and animation.
Benefits and Features:
Jabberin' Jack is A Plug'n Play Indoor/Outdoor Animated Talking Pumpkin!
Provides Over 70 MINUTES of Singing, Talking, and Joking!
Lightweight and unique, this pumpkin is sure to be the "king" of your Halloween decor!
PATENTED Technology! Short Throw Projector And Built-in Speaker Located Inside Pumpkin Shell.
Simple 3 Button Controls: 2 Volume Control Buttons and a Skip Button to Skip Through Animations. Auto-Shut Down After 2 Hours.
Great for Indoor & Covered Porch! Powered by USB Cable.