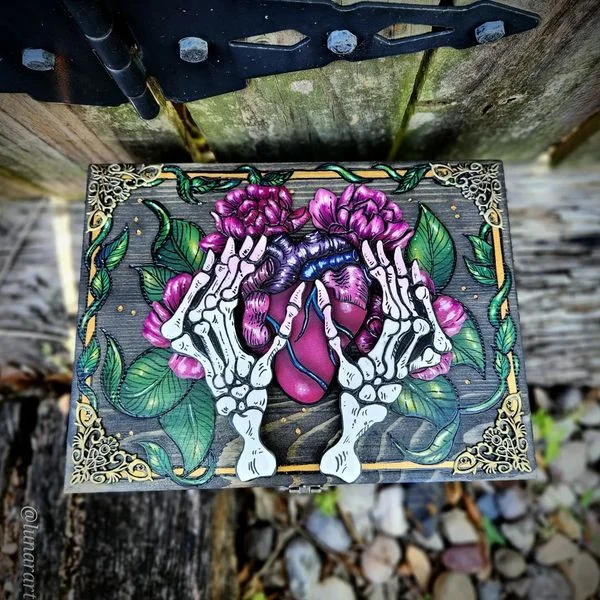 Heart and Skelly hands Hidden Key box is a beautifully handcrafted organizer!
Hand-carved, this key box features a unique skeleton hand holding a blood-red heart, surrounded by flowers, greenery and other natural elements that add a touch of mystery to its appearance. The heart in the skull hands is not just a decorative object, it contains the secret key to a treasure chest waiting to be deciphered by a warrior!
The Heart and Skelly hands Hidden Key box is made of premium pine wood to ensure durability and longevity. The wood is burnished, stained, and hand-painted with acrylic, gouache, and metallic paints. Everything has a clear protective top coat to seal the wood and paint. With plenty of room for rings, earrings, necklaces, and other small items, this key box organizes valuables while maintaining an air of mystery and sophistication.
Whether used as a decorative centerpiece for a gothic-themed home or as a functional storage solution on a dresser or vanity, the Skull and Nature Hidden Key Box is a striking and versatile product that combines artistic beauty with practicality to provide a memorable and captivating addition to any living space.
Dimensions of box
Width: 8.5"
Depth: 5.25"
Height: 4"
The box comes with the pad lock and one keys and is fully functional, however, I can not guarantee the safety of valuables locked in the box. The intention of the lock and key are for art and decorative purposes primarily.
As my items are handmade, each box is unique and one-of-a-kind in its own way, and will not be an exact replica, but will be as close as possible to the original pictured.
HOW TO TRACK YOUR ORDER?
You will automatically receive a shipping confirmation email once your order ships that contain your tracking number, then click the tracking number(E.G. REDC1234567) you will be able to track your order in real time . If you haven't received tracking number.Please check your spam or contact us with email:service@roozee.shop
You also can track your order by Third-party integrated logistics tracking website

24H Customer Service
We have a team of live reps ready to help any questions you have within a 24-hour time frame, 7 days a week.We would love to here from you,contact us with Email:service@roozee.shop