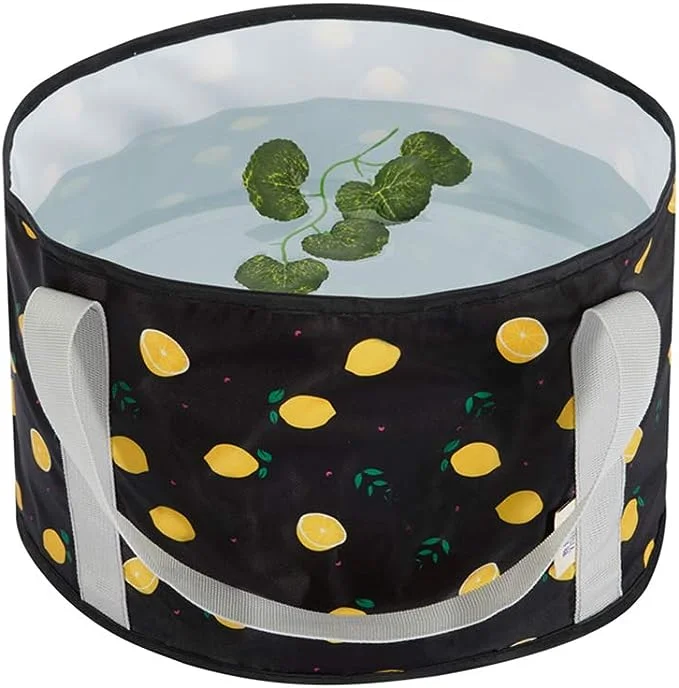 ---
 Say Goodbye to the traditional heavy and big plastic foot bath tub, Completely Relax yourself by having foot soaked into warm water after a tiring day!
Buckets are great for camping, outdoors, road trips, travel, emergency, fishing, picnics, hiking, gardening, even for washing dishes, hauling water, washing clothes or cleaning your feet from sand when you are on the beach, and also use it as the basin bucket when you are in camping.
Waterproof double-layer fabric design, the inner layer is made of quality leak-proof PEVA material
Resistant to hot water of 80 ℃ (176 Fahrenheit), which does not deform at high temperature
👉Specification
12L 

8*12 inch (20*30 cm)

15L

9*13 inch (23*33 cm)

18L 

10*14 inch (26*35 cm)
Saving space and lightweight: You can collapse the bucket when you don't want to use it and it's very easy to carry cause it's very lightweight.
600
👉Material
The inner with waterproof material and the outside is oxford fabric, sturdy and durable.
👉When and Where to Use
1.Use it at travel(Wash your face and feet, even laundry)
2.Camping (Wash dishes and foods while camping)
3.Hiking, or other outdoor activities.(collecting water, small fish, soft drink cans and ice etc.)
4.Storing small items (collecting sand and Small items.)
If you are looking for a practical space saving folding bucket for both outdoor and home use, then our product is perfect for you.
⭐Note
1. Can be filled with hot water (Water temperature does not exceed 158°F / 70℃)
2.Do not Bleach
3.Do not Iron
😘Satisfaction Guarantee
if you're not completely satisfied, then CONTACT US and we will assist you till SATISFACTION.