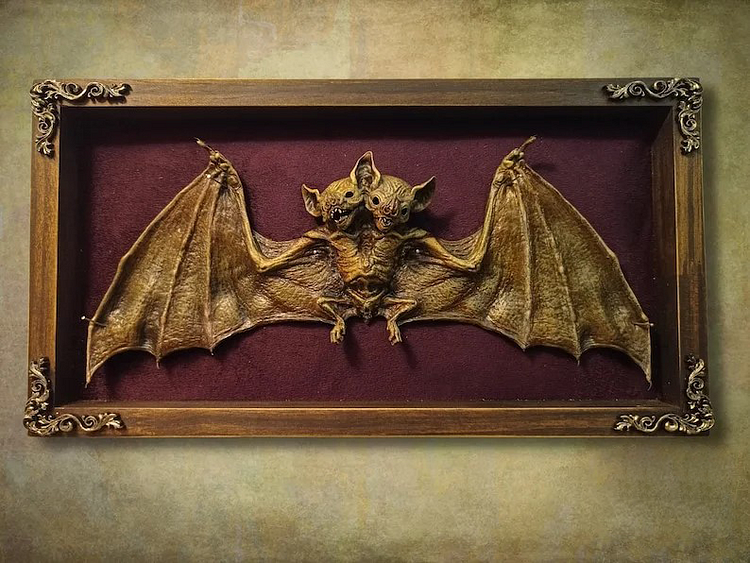 Introducing our Taxidermy Oddity Two-Headed Vampire Bat, a hauntingly beautiful display piece that is sure to capture the imagination of all who see it. Housed in an aged wooden box, the bat's intricately detailed, hand-painted body is displayed against a cushioned fabric interior and purple velvet background, creating a stunning visual effect.

The bat's dried-up skin and decaying state are meticulously crafted to create a lifelike and eerie impression. It's the perfect addition to your desk or bookshelf and makes for a great conversation starter in your office or library. You'll love displaying this amazing piece in your Cabinet of Curiosities!

The Shadow Box Display measures 32cm (12.5 inches) tall, 17cm (6.6 inches) wide, and 3cm (1.1 inches) deep, making it the perfect size for any space. If you have any questions, please don't hesitate to contact us.

Please note that we are the original creators of this product, and it was sculpted and made entirely by hand in our studio. Be aware that there are other sites out there that are using images of our product to commit scams or sell a pirated version of poor quality. Don't be fooled by other sellers; our store is the only place where we offer this and all our other original products.

We've recently updated this product to a better and more detailed sculpture, with the figure 3D resin printed at 4k resolution for maximum detail. The material is also better and far more resistant than the previous version. Please note that some of the reviews may show the older version of the product, but the one you see in the pictures is the one you'll receive when purchasing.