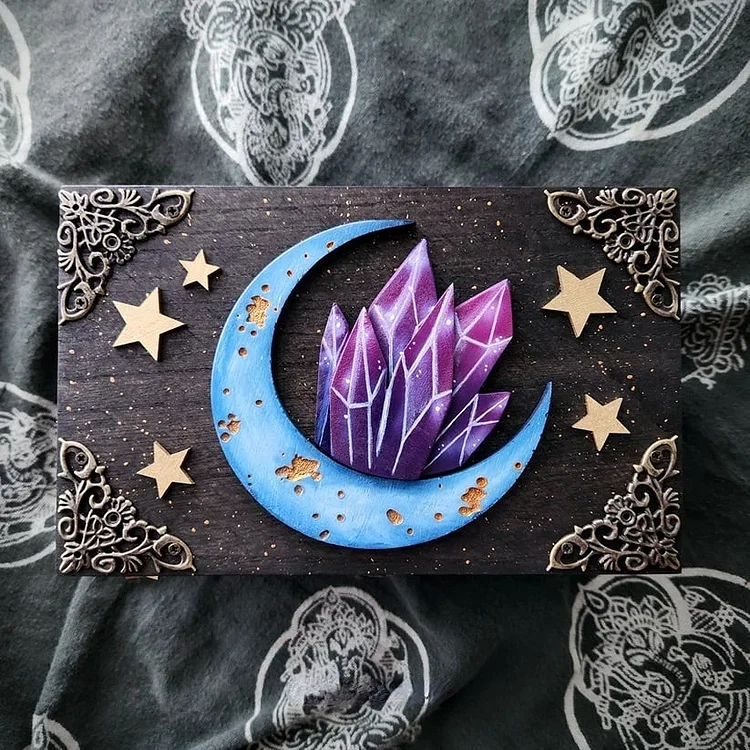 🔥Due to the complicated workmanship, we don't have a lot of stock, so grab him if you really like it.🔥
The Moon and Nature Hidden Key Box with Jewelry Compartments Inside is a unique and captivating product that seamlessly blends artistry and functionality.
Crafted with great attention to detail, this key case has a stunning design, one that encloses intricate natural elements such as stars and moons, which adds a touch of mystery and alluring appearance. The crystal nestled next to the head moon isn't just an ornament, it's the button to open hidden inside the compartment. This mystery and puzzle-like interactive element enhances the button case's appeal, making it an engaging conversation starter and an ideal gift for those who appreciate both art and functionality.
This box is made of Paulownia wood and it is woodburned, stained with wood stain and hand painted. All the wood pieces are cut by hand, sanded and painted. They are made of Baltic birch. The box and pieces have a clear protective top coat.
Whether used as a decorative centerpiece in a gothic-themed home or as a functional storage solution on a vanity or dresser, the Moon and Nature Hidden Key Box is a striking and versatile product that combines artistic beauty with practicality, offering a memorable and enchanting addition to any living space.
The box comes with a cast iron padlock and one keys. Keys and lock are fully functional, however, I can not guarantee the safety of valuables locked in the box. The intention of the lock and key are for art and decorative purposes primarily.
Dimensions of box
Width: 7.5"/19cm
Depth: 4.72"/12cm
Height: 3.15"/8cm
Due to the handmade nature of my items, each box is unique and one of a kind in it's own way and will not be an exact replica, but will be made as closely as possible to the original in the pictures.