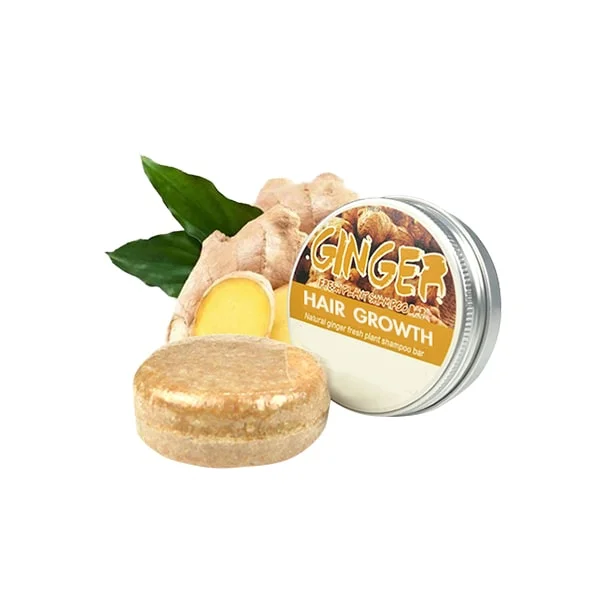 Instant Volumizing Effect!



Your braids will be healthier and more voluminous than ever and not only: you will see your bald patches diminish as well as your gray hair that has been forming !
Fast And Lasting Results



In just one week you will reduce hair loss problems and have considerable regrowth.
This shampoo bar will leave your locks incredibly soft and naturally shiny, making your hair stronger and more vivid, unlike its previous faded hue.
What Causes Hair Thinning?





Hair loss is a common problem and beauty concern for everyone, as people age their hair often starts to lose volume and thickness. On average, a person loses 80 to 100 hairs in a day. But, losing an unusual amount can create visible patches of pattern and baldness can turn out to be another concern that disturbs the hair growth stages. These factors include stress, hormonal changes, nutritional deficiencies, medications, heredity, health conditions, pregnancy and so on .
Best Hair Growth Activator: Ginger Shampoo Bar!



This slim shampoo bar is specially formulated with a fast-acting , fully packaged organic ingredient like ginger, which rejuvenates hair growth and strengthens every lock . Effectively removes toxins , itch and other impurities from the scalp to prevent accumulations that clog follicles and cause hair loss.






It also stimulates blood circulation which nourishes the locks and supports a steady supply of nutrients throughout the scalp to trigger an active anagen phase. Providing healthier , longer, faster growth and aregrowth to hide hair loss and prevent the production of short, brittle strands or future damage. The shampoo bar even fights the development of dandruff and provides an anti-wrinkle benefit that keeps the braids in their natural shade.



The ginger shampoo bar repairs dry locks and provides them with good, long-lasting hydration . Leaving your hair perfectly hydrated, soft and shiny at any time of the year. Furthermore, it is safe to use on any hair type and offers a pleasant scent that can overcome even regular shampoos.



Natural Ingredients





Ginger Extract - promotes natural hair growth by improving circulation to the scalp and stimulating and strengthening each hair follicle and roots. It comes with antiseptic properties that successfully reduce scalp infections and ward off dandruff and flakes. Ginger also consists of antioxidants that help protect hair follicles from damage, split ends and hair breakage. Plus, it even works to smooth your hair, and it's a rich source of zinc and essential nutrients that keep your locks glowing .




Shea Butter - is enriched with Vitamins A and E that add a brilliant shine to locks and is an excellent moisturizer to soften dry, brittle hair and repair split ends. It also provides nutrients to the scalp and follicles and gives them a great boost. This, in turn, strengthens the hair , which helps to slow down hair loss and even promote healthier, longer-lasting growth or regrowth.


Camellia Oil - helps repair damaged hair and improves overall hair and scalp health . Nourishes strands to tame frizz and promotes elasticity to strengthen the hair shaft . In addition, argan oil also prevents any damage caused by heat or coloring and consists of vitamin E and melatonin that increase hair growth and prevent hair loss problems.





Aloe Vera - Acts as a thickening agent and is historically used to treat baldness and thinning hair . It also works as a growth stimulus and prevents hair from falling out.. In addition, aloe vera can gently clean the hair shaft efficiently, removing extra sebum, also known as oil, and residue from other hair care products. It really soothes the scalp and helps to reduce multiple symptoms such as itching , scalp dryness and irritation .


8 Weeks Of Treatment
" My hair is the best it has looked in years! I cannot say how happy and satisfied I am with this ginger shampoo bar. No more hair loss and it has grown a lot since using this product. My co-workers They even compliment how healthy it looks and is silky to the touch. It really is a game changer, there's nothing I don't like about this product! I proudly recommend it to everyone! "

André Cruz , 52, Lisbon, Portugal



Main benefits
Stimulate hair growth in bald areas
Increase overall hair volume
Improve circulation to the scalp
Strengthen every hair follicle and roots
Great reduction in hair loss and hairline thinning
anti-ash properties

Features
Key Ingredients: Ginger Extracts, Shea Butter, Camellia Oil, Aloe Vera
Weight: 65g
Recommended use: Apply daily.

We recommend applying a pack of 5 to get the best result.

( 8 weeks as a complete treatment, the amount of packs needed varies with the severity of the hair loss. )

100% Money Back Guarantee
We guarantee that you will receive your order, otherwise contact us and receive a 100% refund!
Free Shipping Worldwide
All our products are delivered within 10 to 15 working days. And in order to offer the best delivery quality we work with DPD , Sopostal LDA , Transportes Luis Simones SA , Load2Go , Aveirofast LDA , Transdefiro LDA , Cargoway , CV Trans LDA , C&M Logistic's and Vipmudanças .