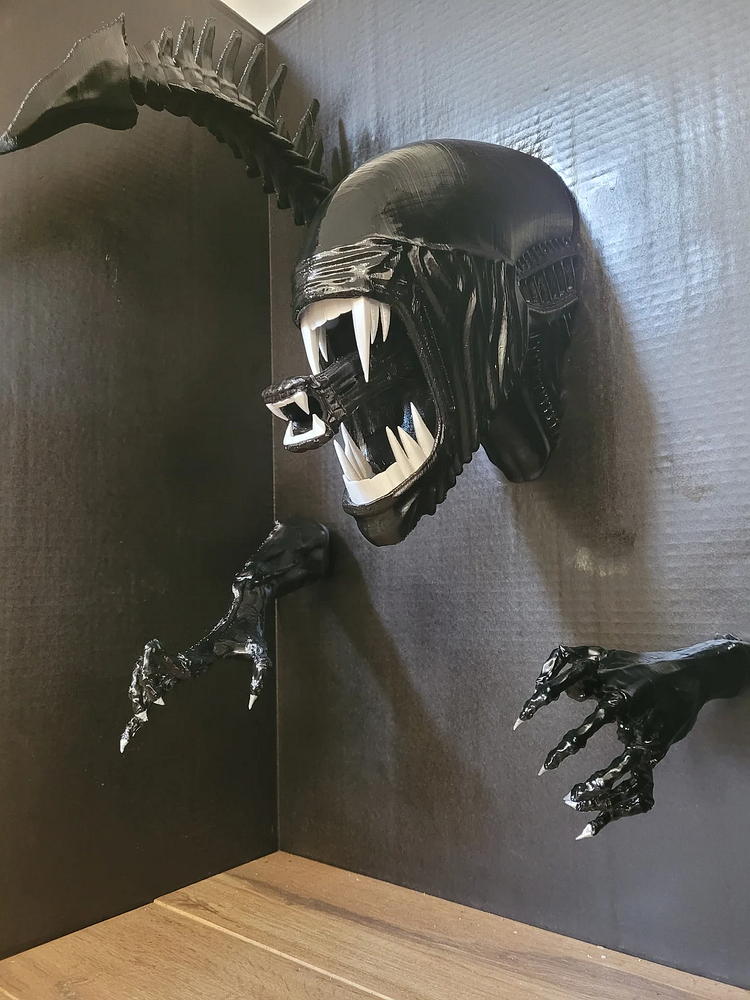 Introducing the Alien Xenomorph Wall Art, an extraordinary and captivating piece that brings the spine-chilling allure of the sci-fi universe right into the heart of your living space.
Inspired by the iconic creature from the acclaimed Alien film franchise, this wall art is a must-have for enthusiasts of the genre and art connoisseurs alike. Meticulously crafted with intricate details, the Alien Xenomorph Wall Art perfectly captures the creature's nightmarish essence, leaving an indelible impression on anyone who gazes upon it.
The art piece is expertly designed to infuse a sense of mystery and otherworldly allure, making it an exceptional conversation starter for gatherings and a center of attention in any room. The choice of dark, alluring colors further enhances its eerie presence, while subtle accents of metallic sheen lend an air of sophistication. Whether hung in a living room, entertainment area, or a bedroom, the Alien Xenomorph Wall Art adds a unique touch of suspense and drama to your interior décor.
Crafted from high-quality materials, this wall art ensures longevity and durability, so you can enjoy its mesmerizing presence for years to come. Its large size and impressive level of detail allow for a transformative impact on your space, instantly elevating it into a realm of science fiction and imagination. For fans of the Alien franchise or admirers of the surreal and mysterious, the Alien Xenomorph Wall Art is an essential addition to any collection, guaranteeing an unparalleled and immersive experience that will leave guests in awe.
Every item in our shop is handmade, hand-painted, and unique. The image provided is an image of the actual product you will receive.
Specification:
Handmade, hand-painted
Material: Durable latex leather
Size: Approximately 24" - 25" Tall *top of the tail to bottom of hands*
Notice:
Please allow 1-3cm deviation due to manual measurement.
Actual color may be slightly different from the image due to different monitor and light effect.