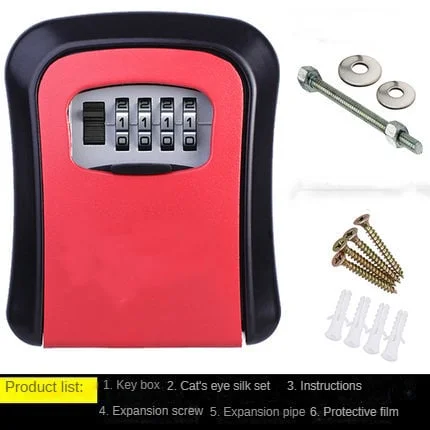 Why do we need a safe key storage box?
With a lock box with a key, you no longer need to carry lockers for lockers or hide them under the rug, flower pot or doormat, just need a 4-digit combination to enter the house; it's really convenient for everyday outdoors Sports, friends, relatives and door latches, kids at certain times for home services, emergency entry, real estate business.
hint:
Please record the password by taking photos or notes after each password reset, otherwise you will not be able to receive the password.
It is not recommended to use a combination like "0-0-0-0-0-0", otherwise it will be easy to crack.
Please close the shutter to protect from weather, dirt and grime.
It is recommended to rotate the dial weekly to keep it working properly.
Features:
This key lock box is made of zinc alloy, which is strong against cutting, hammering and sawing. And it's corrosion-resistant, durable, and weatherproof.
The 4-digit combination provides 10,000 unique options, which makes the key storage box with high security and protects your keys.
And has access to your house keys for students, friends, chores and emergency entry. It is also the perfect solution for real estate business key storage.
You can also use this keyed lock in warehouses, garages, offices, and more, eliminating the need to buy several keys if many different people need to open the lock.
🔑Durable Materials – This Key Lock Box is made with a striking balance of strength from Zinc Alloy, Aluminum, Water Proof plus Weather Resistance. Protects your keys from being damaged by drill, hammer, saw and other means.
🔑Metal Constructed Body - Locking Mechanisms. Key Lock Box can be used for Home, Vacation Rentals, Businesses, Real Estate Office and Warehouse
🔑Easy Installation - for Wall Mount Key Lock Box has four screws and can be installed in many areas for indoor or outdoor use for your Home, Vacation Rentals, Businesses, Real Estate, Office, Gym, Hospitals, Schools and Warehouse. Key Product Features
🔑Our Lifetime Warranty - provides coverage for the original purchase.
🔑What's in the box : 1 Key Lock Box, 4 screws, 4 expanding Screw Anchors, Hanger Hook, User Manual with a Lifetime Warranty.